Given that it's the end of an academic year (in the Northern Hemisphere, at least) I thought I'd end it with a tale of inspiration. It's tough right now, being an educator in England. The Secretary of State never seems to have a good word to say about teachers, and the inspections agency OFSTED, seem to take delight in continually raising the bar, thus providing little comfort to school leaders who have worked so hard to improve standards, only to find that was used to good, now isn't good enough.
And for the schools that are deemed to be not good enough,  the big stick gets wheeled out: schools are threatened with closure or forced academisation; headteachers and principals are put under extreme pressure to get tough, get rid of 'dead wood'. Tragically, we're seen a rise in suicides among school senior leaders, over the last few years, and the Association of School and College Leaders reported  that 120 senior leaders lost their jobs last year. The extreme pressure, and risk involved, for a leader of a successful school, to take on a failing one in an impossibly short timescale means that only the bravest or the most foolhardy  would do so.
I'm not sure which of those categories Carl Jarvis would placed himself in when, in 2009, he took the job at Hartsholme Primary School – both, probably. Hartsholme was then the 5th worst school in the country and in 'special measures' (improve, or else). After the latest OFSTED  visit, Carl was told his school was now 'beyond outstanding'. By any stretch of the imagination this is an amazing achievement. Turning schools around is as much about what you take away, as what you put in. In the case of Hartholme, out went the complicated discipline procedures, the atomised timetable, the bells, the schemes of work and lesson plans that clearly weren't working. Out also, went the desks – Hartsholme still has some tables, but students are to be seen lying on the floor, or working outside – wherever the task takes them. Crucially, the one thing that didn't go  were the demoralised and ineffectual teachers.
The stereotype of the 'executive head' is that of a macho, target-setting, hire-and-firer. Carl isn't like that – at all. The amazing part of this story is that Hartsholme's revival was not about a charismatic leader around whom succes gravitates. The reason why this school went from the point of closure to world-class in two years, and the reason why it's success is replicable, was that the pedagogy changed, not the people. For two years, Carl lived in the classroom, observing, feeding back. Praising what was good and glossing over what wasn't. He discovered that student ambitions were rock-bottom: some students aspired were to be in prison, as 'you get looked after there'. In human terms he had to build the three qualities among staff and students that now adorn the walls: respect, empowerment and belief.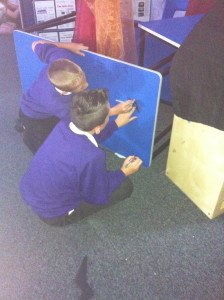 They developed an approach that they call 'reverse learning'. Instead of working from the handed-down instruments, like the national curriculum, target levels, and working out lesson plans to fulfil obligations, they started with their students, looked at how engagement could be built, and then designed learning activities, with the national curriculum requirements as an afterthought. When I asked Carl how he viewed the new national primary curriculum, he gave me a look that was pure Catherine Tate: he didn't quite say 'Face? Bovvered?', but he may as well have done. Instead, their quest for what makes deeply engaging learning led them to bring in neuroscientists, and to create immersive learning spaces that stimulate all of the senses, and to ensure that every single task students are engaged in has purpose. Challenge-based learning requires puzzles to be solved, products to be created, understandings to be demonstrated.
Spending 3 hours at Hartsholme Academy is as inspiring as you hope it will be. Every immersive space looks different. One had a shipwreck in it, around which students clambered. Another was in darkness, save for the light coming from the iPads which all students have, as students worked out calculations which would support the feeding of nocturnal animals – as you walked in, leaves crunched under your feet and the smell of woodland hit you.The overwhelming impulse, as a visitor, is to get in there and do some learning yourself. A group of kids were outside, re-designing the nature reserve they're creating for the community and parents to enjoy. I can honestly say that in 3 hrs I didn't see a single student off-task. Every one of them was deeply engaged in their learning.
Of course, all of this is fine, but it's no use creating learning which is 'fun' (why do we feel we have to put that word in inverted commas?) if outcomes aren't improved. As you might have guessed, Hartsholme's exam results have shown spectacular improvement. Despite this, the local press have campaigned against the removal of desks, on the basis that kids' handwriting would suffer if they didn't have anything to write upon. They were also, predictably, horrified by the introduction of iPads.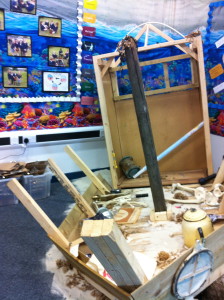 It's an indictment of the current system of regulation that Carl and Hartholme are seen as 'mavericks'. We only categorise inspiring leaders as maverick because they dare to challenge the culture of compliance and are willing to take risks – in business, such behaviour would be seen as enterprise 101.  Another motto on the walls gets to the heart of it: 'This is a safe place to make mistakes'. It's meant for the students, but it applies equally to the staff. Carl and his teachers have gone around the world looking at innovations and then tried them out back home. Most have worked, some haven't – but they'll keep looking, in the quest for ever more engaging learning. The same teachers that were probably facing a career change in 2009, are now inspiring others, as the newly formed EOS Teaching School Alliance draws heavily on their expertise to support others.
And the parents from the economically  depressed community –  most of whom deeply resented the school a few years ago – are fully involved in the real language of learning. Some have now become teaching assistants. The problem Carl now faces, is that parents have become anxious about what happens to their motivated children after this experience in the primary stage. So, Carl is working with the Innovation Unit, High Tech High and other learning experts to create a secondary Free School in Hartsholme.
Hartsholme Academy is one of best learning environments I've ever had the privilege to witness. Most great schools take a decade or so to achieve the kind of engaging learning culture that they've done here in two years. Most feel they have to ship teachers out, the miracle of Hartsholme is that they did it with the same teachers that were deemed to be 'failing' in 2008.
If you possibly can, get along to see what they're doing there, and feel inspired to focus all your attention on pedagogy and resist the pressure to 'performance manage' your way to transformation. If you can't get there, I hope this short video will be the next best thing. It was put together earlier this year by Cady Staff, expert teacher at High Tech High Chula Vista. In it,  Carl explains the philosophy behind this inspiring school.