NOTE: This is just the first draft of a crowd-sourced post. I need your input to flesh out the ideas!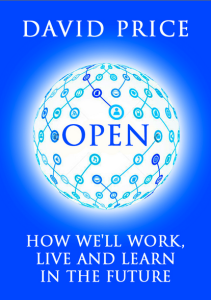 One of the unexpected delights in the reaction to my new book, Open, has been the number of schools and organisations who have contacted me to ask if I'll work with them in making their learning environments more open. It's both affirming, in that I have perhaps identified values and principles that people can believe in, and encouraging, in that it goes beyond the 'comfort of aspiration' ("we'd love to, but…").
These are organisations in very differing circumstances and contexts, and on five continents, so it suggests that the desire to go open is universal.
But how do we put it into practice? What are the blockages we have to overcome – are they 'hearts and minds' issues or structure and culture constraints?
In the final two chapters of the book, I suggest some ways in which we can  start to making learning more open, more engaging, more innovative. I also share some case studies of schools and companies that are exemplars of the open philosophy. But I don't face the day to day pressures that often enclose learning – many of you do. Almost by definition, the organisations that I usually work with, are already committed to change and innovation. However, if the book does point towards universal values there must be small things we all do which make our organisations more porous and more meaningful to work and learn in. Sharing is one of those values, so please help others by sharing what's working for you.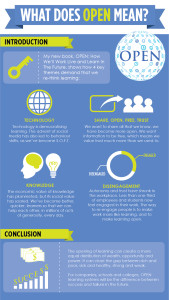 Let me know of your own examples of open learning. They may take place in your school or organisation, or perhaps another working/learning environment that you admire. But please keep them practical; changes you made, experiments you trialled, attitudes that shifted. Be honest – we probably learn more from things that didn't quite work than we do from the unqualified successes. Leave your comments below and I'll incorporate as many as I can into the body of this post
Don't worry if you haven't actually read the book. The video below summarises the main arguments.

____________________________________________________________
Tales from The Front Line:
Richard Martin,  Head of Knowledge Management, RSSB, UK
"I'm  determined to promote the notion of a porous and dispersed organisation; one that is centred less on a physical space or a finite workforce. Rather the modern company needs to accommodate flexible and remote working, look more to collaboration and cooperation with business partners, customers and suppliers, and accept that not everyone on a project team will be on the company's payroll. I see Open as a social concept. One that supports the sharing of knowledge and experience, encourages creative connections between people from diverse backgrounds and industries, highlights networks and relationships, and enables greater agility and flexibility in dealing with complexity and change.
One of the ways I have attempted to put all of this into practice is through my recommended approach to a recent CRM project. Rather than doing the expected – procuring an off-the-shelf software package – we have looked at customer relationship management as a working practice and an organising principle for a company. We have emphasised people over either technology or process, exploring how we need to organise ourselves to meet our customers needs. It just feels a more Open way of doing things."
Jon Andrews, Director of Teaching and Learning, St Paul's School, Brisbane, Queensland:
"St Paul's believes that learning is authentically lifelong and forged through experience and the relationships we create. We also believe that we don't have all the answers, resources and expertise to bring about the kind of learning all students need, sometimes they are right under our nose in the community.This desire to be open to new and engaging learning experiences that are relevant and centre on service are at the heart of our latest initiative. The basic idea is to create temporary accommodation/shelter for the homeless in our local area by recycling and converting decommissioned shipping containers."
 By crowd-sourcing interest, we were able to identify a local contact who secured containers on our behalf. Once delivery has occurred, students are involved in every aspect of the project. They drive it from the bottom-up. They determine the project timelines, establish success criteria, conduct site/environmental surveys with the local council, source local industry mentors and resources to carry out the modifications, arrange the handover, liaise with media, co-organise opening and volunteer their services as stewards. This is a classic Heutagogy – student driven rather than pedagogy, teacher driven project. By undertaking this project, students gain skills and knowledge in the areas of collaboration, decision-making, problem-finding, design thinking etc. In addition, they will be able to authentically live out SOFT – Sharing, Open, Freedom and Trust in a relevant, rigorous and applied fashion. Going OPEN has really assisted us in how we are reimagining learning and creating an education worth having.
This one is quite lengthy, but it's so do-able that I've not edited it. It's a brilliant innovation from  Mark Moorhouse, Principal at Matthew Moss High School, UK:
"We have a recent example of disintermediation and peer-to-peer networking to share, achieved quite quickly within Matthew Moss High School, an English state secondary school.  The "D6" initiative is quite "Open" in fact.  "D6" stands for "Day 6": it struck us that highly effective Yr12 learners from the local Sixth Form College were earning minimum wage for washing up in cafes every Saturday when they had significant skills and knowledge to pass on to 14 – 16 year old learners preparing for GCSEs.  So we approached the principal of the college and discussed the idea of employing his most successful learners as D6 coaches to help our KS4 students learn for four hours of supported study on a Saturday morning, from 9.00am until 13.00pm, in school.  Not only would it look good on the Sixth Formers' CVs, but the work would help them consolidate their own subject knowledge, skills and learning habits when coaching the younger learners.  We recruited and trained 13 coaches and opened the invitation to Yr11 learners at school.  If they came, for four hours every Saturday, then we would help fund their travel expenses to college for the first term of their post-16 study.  About 50 came. After a week or two we opened the scheme to Yr 10 and 11 leaners, with no incentives at all, just the invitations.  120 extra learners turned up, so we recruited and trained a further 26 Yr12 coaches.  The numbers continue to climb and we are looking at 25% at least of the whole school cohort electing to spend four hours every Saturday coming to school to pursue self-managed learning, supported by the coaches who in turn are supported by two teachers and six teaching assistants.  
It is non-uniform, there is free food and drink available at any time and learners have to come equipped with four hours' worth of independent learning.  It is proving remarkably effective, a huge hit with learners and demonstrable impact on progress.  We think the popularity and success of D6 are down to the following:
1.  It is not compulsory but totally elective.  Moreover, the initial incentivising appears to have had little significance as a driver.  The learners are coming for the learning on offer.
2.  It is free-form, released from the strictures of traditional school timetabling, so learners drive what happens from their demand and group up for learning which is "just in time" and not "just in case".  The flexibility of the system and the high contact ratio of coach to learner means that learners can draw in the support they need, exactly when they need it.   Study-groups and mini-lessons spring up, sustain for the life of their usefulness and then break up again, almost organically.
3.  The fact that it is peer coaching is of massive value: 14 -16 year olds are being coached by 17 year olds who are fresh from successfully navigating the examinations which the younger learners are on the point of entering.  They are as well-placed to be experts as anyone and are highly valued.  Furthermore, he discourse is between learners and coaches is not hindered by barriers of institution or age.  There is remarkable flow achieved.
4.  It is not called "Saturday School", which could easily signal "More of The Same" and is non-unifrom.  It presented as an adult to adult, "disintermediated"space.
5.  It is not another day for the whole school cohort and so the density of occupation is reduced.  There is space and quiet and a different atmosphere.
Without a doubt, D6 has exploited the traditional school space in an entirely different way and "opened" the institution to allow learning to flow far more efficiently.  And the initiative is cost-effective and sustainable.
Happy to host visitors if anyone would like to test the actuality."
Lou Mycroft, Northern College, UK writes:
"Thank you for the phrase 'comfort of aspiration'!  You have helped me articulate a concept I'd been unable to elegantly express – one of the many joys of open learning are the many opportunities it provides to refine thinking and learn from the words of others.
Our Community of Praxis uses freely available social media to develop the thinking, expression and practice of social purpose education.  The egalitarianism of open learning enables teacher education students to find their own words and be present in public discussion as themselves, without buying into (too much) hero-worship of the most prominent voices.  Thus the field benefits from a diversity of perspectives.
From an organisational perspective, The Northern College is a small, perfectly formed and rather unusual adult education college, which brings us both strength and vulnerability in challenging times.  Being open to 'Open' allows us to punch above our weight in terms of shaping agendas.  Along with our teacher education students, we have a focus on empowerment which is just not seen or heard in media and political discourses around education.
Your explication of open learning gives us a base from which to draw the courage to #teachdifferent.  Thank you."
Jamie Staff from South Staffs College, UK has written:
"A few years ago I was involved in a project called classroom in the cloud that had a vision to create a transformational learning experience for the digital age working in partnership with a global technology pioneer and tens of thousands of students. Although the project had some early successes for the most part it was a difficult and troubled journey. The reason as my friend and technology thought leader Sandy Carter would say, is that culture eats strategy for breakfast. She's right.
Early adopters were not enough in the above example to achieve the scale of change required because the dominant culture was risk and therefore change averse. For that organisation this was 'safer' than evolution, yet as Tolkien once said you can fence yourself in but you can't fence the world out.Education leaders need to take a new approach to meet the demands of the open agenda, and one lesson for me from my classroom in the cloud project was that to enable transformational change a development has to both make life better for the enablers of the vision and it has to be rigorously simple, in the same way that Google is largely a logo with an empty box under it to the user. More emphasis could have been placed on the cultural benefits of the change to enable wider adoption."
innovation
>
Open