Publications:
OPEN: How We'll Work, Live and Learn In The Future.
Published in November 2013,  
What makes a global corporation give away its prized intellectual property? Why are Ivy League universities allowing anyone to take their courses for free? What drives a farmer in rural Africa to share his secrets with his competitors?
A collection of hactivists, hobbyists, forum-users and maverick leaders are leading a quiet but unstoppable revolution. They are sharing everything they know, and turning knowledge into action in ways that were unimaginable even a decade ago. Driven by technology, and shaped by common values, going 'open' has transformed the way we live. It's not so much a question of if our workplaces, schools and colleges go open, but when.
Try before you buy – click on the link to download sample chapters
Also available in Russian (go figure…)
Learning Futures
The Learning Futures programme, funded by the Paul Hamlyn Foundation, sought to bring innovation to schools in England through a focus upon engagement. We project-managed the initiative and, in partnership with colleagues at the Innovation Unit, produced the following free resources:
The Engaging Schools Handbook is a senior leader's guide to school re-design, focussed upon making the school more engaged with its communities, employers, parents and students:
Engaging School Handbook.pdf (1.03 MB)
We argued that the best way to have engaged students is to make sure that the school they attend is engaging. But how? What does an engaging school look like? This pamphlet identified some key principles and practices:
Pamphlet 3 – Principles and practice
The Engaging students pamphlet examined models of engagement, what engagement looks like, how it is often confused with compliance, and offers some simple strategies for enhancing student engagement:
Pamphlet 2 – Engaging Students.pdf (970.62 KB)
Working with Monkseaton High School, we created a practical teacher's tool that accelerates learning through the concept of 'spaced learning'. The approach is now being evaluated by the UK's Education Endowment Fund
Spaced_Learning-downloadable.pdf (1.77 MB)
Our 'go-to' reference point for our PBL training is 'Work That Matters' created in partnership with High Tech High. Special mention should go to Alec Patton who pulled the whole thing together, and then went on to teach at HTH!
Teacher's Guide to Project-based Learning.pdf (4.39 MB)
_________________________________________
Chapters, Articles and Pamphlets
Aug 2015: The Manpower Group asked David to provide a provocation and facilitate a discussion as part of their 'Human Age' series. The focus here is on Generations Y&Z and the perceived 'skills gap'
The Human Age Series – Closing the Skills Gap with Tomorrow's Talent
Feb 2015: The Centre for Strategic Education in Australia commissioned David to  take some of the ideas developed in 'OPEN' and put them in the context of systemic change and how to unlock innovation in our education systems
Nov 2014: A chapter on self-determined learning in social communities of practice (it's a lot more fun than it sounds) within an excellent book, 'Experiences In Self-Determined Learning'. Worth buying the whole book!
Heutagogy and Social Communities of Practice- Will self-determined learning re-write the script for educators?
Nov 2013: The Fear Factor: What's Holding Us Back From Moving Ahead, article for Canada Education magazine
_________________________________________
Podcasts
Engaged Learning Episode 4 – Conversation with Teachers Education Review
First broadcast as part of the excellent Teacher Education Review Podcast in Australia, this is a conversation I had with Cameron Malcher and Corinne Campbell in Sydney, in March 2014.  Until we got kicked out of Chatswood Library (not for making a noise, I hasten to add) we talked about the issues explored in OPEN, particularly as they apply to schooling. Cameron and Corinne are both teachers, so it was great to get their perspective. Their review of OPEN follows in the next episode.
Please subscribe to the TER Podcast – it's great.
Engaged Learning Episode 3 – Larry Rosenstock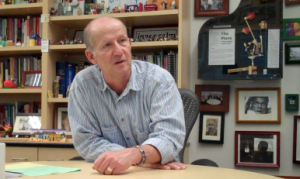 I'm about to meet up again with Larry Rosenstock, CEO of High Tech High – he and I are doing keynotes at the EOS 1st Annual Conference on Wednesday 19th March 2014 – so it seems appropriate to share an interview with him that I thought I'd lost. It's difficult for me to objective about Larry: apart from the huge professional respect I have for him and what he's achieved, he and I share a passion for golf, and we've become really good friends over the past  five years.
Even allowing for my personal affection for Larry however, anyone who's heard him speak will know what a great storyteller he is. Even allowing for the shocking audio on this recording, I think you'll find it a fascinating insight into one of the great living learning designers.
My thanks are due to my Innovation Unit colleague, David Jackson, not only for posing some of the questions, but for rescuing the recording when I thought I'd lost it.
 Episode 2 – Ron Berger in Conversation (Pt 2)
This is the second part of the conversation I had with Ron Berger last summer. Here he talks about ways to secure parental engagement, authentic learning and the balance between project, problem and lecture-based learning. He also shares an analogy of curriculum coverage as high-speed travel.
Episode 1 – An Interview with Ron Berger
This is part one of an interview with Ron Berger, founder of Expeditionary Learning schools and author of 'Ethic of Excellence'. Here he talks about his early life as an elementary teacher and the start of his interest in multiple drafts and critique. Listen, and then go buy his book!
(Part Two coming soon…)