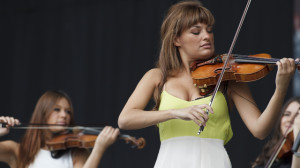 The Independent featured an interview this week with the acclaimed violinist, Nicola Benedetti who criticised music teaching in the UK. Now, I don't doubt Ms Benedetti's commitment to music education. She's done a lot to inspire kids playing in Scotland's El Sistema model, The Big Noise project in Raploch. I'm sure she's sincere in her desire to bring classical music to more young people.
She's just wrong, that's all.
According to the Independent, 'She said teachers should be encouraged to take children through symphonies from Beethoven and Sibelius to Dvorak and Mahler and explain the form in detail. "Every single young person in this country should be made – within the context of their school curriculum – to listen to the greatest classical works."
Now, aside from the fact that this process sounds suspiciously like the miserable failure of 'music appreciation' classes that I and millions of other schoolkids were forced to endure in the 1960s, it raises to important questions. First, is forcing kids to listen to any form of music the best way to fire them up in their appreciation of it? Second, can anyone be successfully 'forced' to learn anything?
I work as part of the Musical Futures team that has probably done more to increase the numbers of students studying music at GCSE level in England, than any other pedagogical approach. Teachers who adopt Musical Futures approaches see a minimum of 40% increase in GCSE numbers (and usually much more). Those students  are then usually required to learn and analyse classical music (depending upon the exam board requirements). How have we achieved this increase in the number of students appreciating classical music? By allowing students to choose their entry point – the music they love – and putting instruments in their hands all of the time. Ms Benedetti appears to dismiss anything other than 'complex' music as 'fun', and makes no reference to kids actually playing classical music, possibly because she knows that for the average, untrained, class of Year 7s, it would be beyond them.
Ms Benedetti joins a long and distinguished line of lobbyists of classical music, and it's hard to see how these lobbyists would be given  airtime in any other subject area. Can you imagine Prince Charles arguing that PE lessons should revolve, not just around polo, but on merely watching polo? Or francophile Tony Blair suggesting that all kids should compulsory study French  by watching Gerard Depardieu movies – but not actually speak French?
Of course these are ludicrous examples, but so is the proposition that one genre of music is  inherently superior to another. Jazz isn't complex? The music of Brian Wilson or Stephen Sondheim isn't complex? I don't think so.
Rather than insist on absolutes, people who aren't regularly in classrooms should perhaps trust teachers to find their own keys to unlock kids' musical passions. Through Musical Futures, we've seen lots of students better understand classical music by trying to play it. But we don't insist that they start with it. A good teacher's job is, in the words of Sri Aurobindo, to start from the near, but work to the far.
The article, however, also raises the issue of compulsion in learning. Can anyone be made to deeply learn anything? Personally, I don't think so. Sure, with enough repetition you could maybe drag even the most reluctant learner through a test – but would they have truly learned the subject matter? Doesn't that require interest and motivation on the part of the learner? Forcing unwilling kids to listen to classical music is reminiscent of the 'beatings will continue until morale improves' psychology.
And one has to wonder what it is about classical music (which I love, by the way) that demands such forcefulness in the face of resistance? A hint is given by Nicola Benedetti: "(it gives us) a way to go as deep as you can into our history and our understanding of humanity; of our expression and growth as people." Oh, not that one, Nicola! Classical music as a civilising influence…. tell that to classical buffs Adolph Hitler and Benito Mussolini.
Surely our job as educators in schools is to excite kids about learning, not force-feed them our own prejudices?