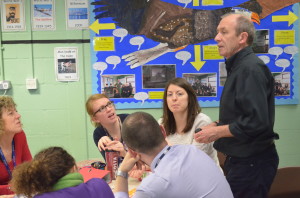 We worked with Kerr Mackie Primary School, in the UK, to train all teaching staff in the use of high quality project-based learning. Utilising processes and protocols, we ran a number of sessions in planning and executing projects: origination; project tuning; planning and managing timelines; how to develop a culture of student critique and multiple drafts; rapid prototyping, and final exhibition.
The staff are largely new to project-based learning, but keen to make it happen, because they can see the impact it can have on student engagement. They have an extremely supportive Head Teacher in Angela Ronicle.
Here's the interim reflections of Andrew Stout, Assistant Headteacher:
After the initial training sessions, we ran surgeries with teachers to critique their initial project plans, and then followed up by working alongside teachers in a mentoring and critical friend capacity. The whole process ran over 4 months, from initial training to evaluating the impact of the finished projects.
A further critical intervention was a strategic visit to a school that was a little further along the journey. We took senior leaders to Hartsholme Academy in Lincoln – a similar sized school serving a similar kind of demographic. Seeing how Hartsholme had embedded PBL into a range of teaching/learning and organisational  strategies gave the Kerr Mackie leadership the confidence to fully implement PBL across the whole school.
We're confident that this kind of serious commitment to more engaging forms of learning will result a step-change in the quality of teaching and learning at Kerr Mackie.
Social tagging:
carousel