Over the past 10 years, I've spent considerably more time with teachers and school leaders, understanding their needs, acknowledging their challenges, than I have with parents. That's a proportion I want to reverse over the coming 12 months, because of what I've learned about parental expectation – and parental engagement – towards the close of this year.
When I wrote 'OPEN', at least part of the audience I was writing for were parents. The world that our current students will live in, and try to find work in, is unrecognisable from the one we knew. When I left school aged 16 in 1970s Northern England, there was pretty much full employment. For a grammar-school educated kid, it wasn't a case of whether you were going to get a job, it was which job you chose. When you compare that situation to an England struggling to emerge from austerity, with youth unemployment in the past 4 years averaging 21%, you wonder how much progress we've really made. The situation is even worse in countries like Spain and Greece, where youth unemployment has averaged 54%. None of this is their fault. I managed to work constantly until I chose to undertake a degree course in my early thirties. 40% of Spanish youth have a degree – it's just no longer the golden ticket it once was.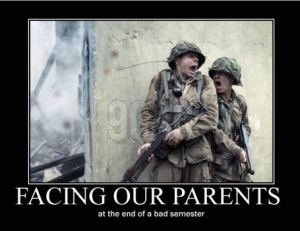 The dramatically altered world of work is just one part of the the picture. How we communicate, how we learn – all of these are now radically different, and if we want to change education to prepare students for the future, not the past, we have to understand the bigger picture. So, when I encounter educators bemoaning the fact that their parents are the innovation blockers, because of their out-dated perception of what school should look like, I ask them if they've shown them the bigger picture, explained the need to change. Mostly, they haven't.
So, that's what I've been doing: discussing the skills their kids are going to need to compete in a globalised world, identifying the kind of teaching and learning they're going to need to get there and – here's the vital bit – asking what they as parents can do to help bring this about. A primary school that hosted an Open Learning workshop told me that the parent body that had hitherto resisted the shift to a more skills and enquiry-based curriculum, told them to hurry open and make the change, after we worked together. Context is everything.
At each session of the recent tour I did for the Australian Parents Council, I asked if the parents in the room had ever attended a similar workshop on learning. Nobody had. What they had regularly attended were what they dismissed as '5 minute speed dating sessions' (aka parents evening) where the snatched conversation was almost entirely about performance, not learning. Instead of that, here's just some of what they wanted to see:
1. To observe, and participate in, lessons
2. To volunteer their skills and expertise in the classroom
3. Create 'parents as learning coaches' courses
4. Schools to use social media to share what their kids are learning
5. Share the 'secret business of teaching' with parents – explain learning philosophy
6. Bring in academics and industry experts to work with parents
More than anything, parents remarked that teachers were 'mortally afraid' of parents, and that we have to improve 3-way communications (parents, teacher, student) through conversations about learning.
My experience over the past 6 months has been that parents will support the school in changing once they understand the need for change, and once they're active partners in that change.
So, next year, I want to do more of these workshops. Bring me in to work with your teachers and parents – I'll work for half my normal daily rates, because I really believe in this work. Parents are the missing part of the new learning eco-system, and they can be our best advocates. Let's face it: no politician is going to listen to school leaders or students. But they will listen to parents. We just have to re-think what we mean by parental engagement.
Let me know what steps your school is taking or if you're a parent, how you'd like to be better involved, Leave a comment below!
open learning
>
Parental engagement