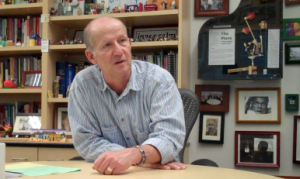 I'm about to meet up again with Larry Rosenstock, CEO of High Tech High – he and I are doing keynotes at the EOS 1st Annual Conference on Wednesday 19th March 2014 – so it seems appropriate to share an interview with him that I thought I'd lost. It's difficult for me to objective about Larry: apart from the huge professional respect I have for him and what he's achieved, he and I share a passion for golf, and we've become really good friends over the past  five years.
Even allowing for my personal affection for Larry however, anyone who's heard him speak will know what a great storyteller he is. Even allowing for the shocking audio on this recording, I think you'll find it a fascinating insight into one of the great living learning designers.
My thanks are due to my Innovation Unit colleague, David Jackson, not only for posing some of the questions, but for rescuing the recording when I thought I'd lost it.
High Tech High
>
Larry Rosenstock