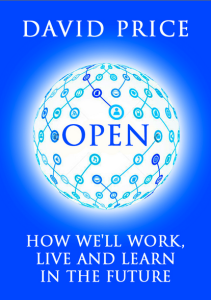 "Open' is a revelation. With an engaging wit and a clear mind Dave Price casts a penetrating light on how the new dynamics of digital culture are transforming not only on how we work and play but how we think, feel and learn. He writes with a sharp sense of social history and theory. But he argues too from deep practical experience as an artist, parent and noted leader in educational change. From every perspective 'Open' will open your mind to some of the real implications of digital technologies for how we live and learn in the 21st century."
Sir Ken Robinson
Two years in the writing, OPEN: How We'll Work Live and Learn In The Future, was yesterday published by Crux Publishing.
The paperback version will be available in a few weeks for those of you with an aversion to e-reading. It's the perfect Christmas present!
We'll be creating a dedicated space on this website for filmed interviews, deleted scenes from the book, discussions around its themes, and a ton of other stuff.
Here's the back cover blurb:
What makes a global corporation give away its prized intellectual property? Why are Ivy League universities allowing anyone to take their courses for free? What drives a farmer in rural Africa to share his secrets with his competitors? 
A collection of hactivists, hobbyists, forum-users and maverick leaders are leading a quiet but unstoppable revolution. They are sharing everything they know, and turning knowledge into action in ways that were unimaginable even a decade ago. Driven by technology, and shaped by common values, going 'open' has transformed the way we live. It's not so much a question of if our workplaces, schools and colleges go open, but when. 
Packed with illustration and advice, this entertaining read by learning futurist, David Price, argues that 'open' is not only affecting how we are choosing to live, but that it's going to be the difference between success and failure in the future.
Here's what people are already saying:
"There a lots of books about learning, but there are hardly any that manage to put the coming education revolution in a context that makes sense both emotionally and economically. 'Open' is a tour de force that is by turns inspiring, shocking, highly entertaining, but above all practical. David Price combines the rare skill of understanding an institution without being institutionalised – a maverick thinker who can, through force of reason and humour coupled with long experience, make the job of re-booting education a fun one. He's just the kind of revolutionary the new world needs – one who's influence comes from putting the power to change things directly into your hands."
Mark Stevenson, Author, 'An Optimists Tour of the Future
"David has constructed a powerful argument for Open Education initiatives and disciplines, not just within Academia, but also within Enterprise. His insights and observations make this a must read book for decision makers and senior managers in understanding what is possible within their own institutions, and what is essential in supporting vocationally focused education and life long learning." 
Alan S. Greenberg, Education Technologies Consultant & ex Apple Education EMEA/Asia
Click on these links to download OPEN now: available on Amazon.com and Amazon.co.uk