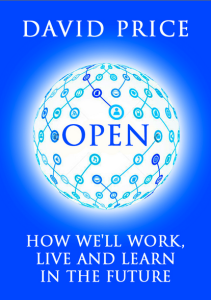 It's the question I've been dreading over the past two years. I don't know many authors, so I can't say if it's a universally felt reaction, but my unspoken response is 'If I could sum it up in a couple of sentences, I wouldn't have needed to write 200 pages'. Nonetheless, the so-called elevator pitch is a necessary aspect of promoting a book. So, here's a slightly longer version, in case you're thinking of investing your hard earned cash in a purchase:
Thanks to the speed and scale of digital communications, we're witnessing a set of profound shifts in how we view, share and apply knowledge. Knowledge has gone from something which used to 'trickle down' (from expert to novice) to something that spreads laterally, through peer networks; from being a guarded asset, to common property; organisations that used to operate on a need-to-know basis are now espousing 'radical transparency'. Most critically, the commercial value of knowledge has tanked, (especially in digital forms) but its social value has soared. In short, knowledge is finally being democratised, and we're going 'open'.
What we're seeing, however, is an unevenly spread revolution. How we learn in the social space has irrevocably changed, and has changed us. In our formal learning places – at work, in school or college – change is coming far more slowly. My argument is that we have to fundamentally change how we make learning happen at work or in education, because it can't keep up with the learning we do 'outside'.  Informal learning is being powered by values and motivations that are largely missing from formal learning.(Think campaign groups like Avaaz, self-help forums and the sharing economy)
I deliberately combine the worlds of business and education because the challenges are the same. Levels of engagement are the same for both workers and students – less than one-third of us are engaged in our work, or studies. We've lost 'permission to think' in both places, and accountability has risen, while trust has fallen. Too many schools and companies see learning in 'enclosures' or silos, while learning in the social space is a 'commons', with a strong sense of participation, purpose and passion.
The global challenge for our institutions is to acknowledge that, having discovered a sense of self-determinism socially, we increasingly expect to see that at work and in school. The innovative companies (like 3M, Google, Valve) and education initiatives (MOOCS, Self-Organised Learning Environments, the Maker Movement) all recognise that, if we're to be engaged, creative and innovative, we  need to be able to 'hack' our working and learning lives, like we do our social learning.
Going open requires a set of principles and actions that many organisations struggle to fully buy into. The book ends with some ways forward for CEOs, learning officers and school leaders. Going open is nothing new – Thomas Edison created the most innovative learning environment we've yet seen through open values and structures – but never has the need for change been greater. Disengagement has disastrous human, social and economic consequences. If we want our kids to be happy, fulfilled and economically competitive in the future, we need formal learning to become much more open.
That's the gist of it. At around 200 pages, it contains case studies of innovative leaders and organisations that inspire us to think differently – in the world of learning, we call such people 'mavericks', simply because they have the temerity to do things differently. But I believe that open learning environments are inevitable and irreversible, so the quicker we understand them, and their leaders, the better.
Please don't feel you have to buy the book to comment! Let me know what you think. How does your learning at work compare with how you learn socially? Have you examples to share of 'disintermediated' living and learning, where you have eliminated the gatekeepers of knowledge or services? Do you work, or study in an environment that is going open? Please leave your comments below!
OPEN is now available on Amazon.com and Amazon.co.uk