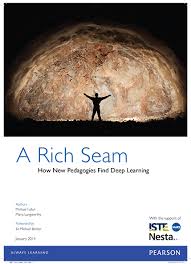 An important report, 'A Rich Seam', written by Michael Fullan and Maria Langworthy, was published earlier this year. It signals the potential for a long-awaited decoupling of research and political pressure. It suggests that teachers as a profession are now starting to drive the direction of educational research based on what works in the classroom, rather than what plays well in the opinion polls.
Meanwhile, in England, the government's schools inspections agency (OFSTED) sought to re-assert its independence last week, when its Chief Inspector – accused by government advisers as trapped in 1960's 'progressive' teaching methods – argued that insisting that 'children be lectured for six hours a day in serried ranks' wasn't the way to produce 21st century citizens.
This kind of political polarisation is nothing new – John Dewey received as much criticism as praise when he sought to make learning more social, in the 1930s. But what has changed, according to Fullan, is the emergence of social networks that connect teachers, enabling them to be collaborative designers and researchers. Anyone who has attend TeachMeet sessions, or taken part in innumerable twitter chat sessions, can see how things have changed, perhaps irrevocably.
It's also clear that, just as our teachers seek self-determination, so do our students. As Fullan points out, 'the ultimate goal of new pedagogies is for students to become independent learners who are able to design and manage the learning process effectively for themselves.'
There are technological and social reasons why we all – teachers and students alike – want to be more in control of our lives. in my new book, OPEN: How We'll Work, Live and Learn In The Future, I argue that the shift we're seeing is from pedagogy to heutagogy. – from tutor-led to self-determined learning.  The implications, for teacher-student relations, are profound:
| | | | |
| --- | --- | --- | --- |
| | Pedagogy: Teacher-Led Learning | Andragogy: Self-Directed Learning | Heutagogy: Self-Determined Learning |
| Dependence | The learner is dependent. The teacher determines what, how, where and when anything is learned | Learners are independent. They strive for autonomy in learning, to arrive at a destination determined by others. They are 'problem solvers'. | Learners are 'problem-finders'. They know their destination and become interdependent on those who can help them determine the route |
| Focus of Learning | Learning is subject-centred and focussed on prescribed curricula | Learning is goal-driven, focussing on tasks which allow for cross-disciplinary thinking and autonomy  | Learners are enquiry driven – they take a long-term view of their learning, seeking further complexity and uncertainty |
| Motivation for learning | Motivation derives from external/ extrinsic sources, e.g. parents, teachers, sense of competition  | Motivation is intrinsic – learners enjoy the boost to self esteem that comes from successfully completing challenges. | Motivation lies in experiencing 'flow' and  knowing how to learn. Learners seek out unfamiliar situations and the gaining of  'adaptive competencies' |
| Role of teacher | Pedagogue – designs the learning process, suggests and provides materials deemed effective at  achieving desired outcomes | Facilitator – sets tasks but encourages diverse routes to solutions. Pursues meta-cognition in learners. | Coach- brings together opportunity, context, external relevance and extended complexity. Fosters a culture of collaboration and curiosity |
What is equally profound, however, is that teachers are modelling these new, open, paradigms. Like their students, they're no longer being told what to think. Communities of practice are springing up everywhere. They're not interested in traditional vs progressive, knowledge vs skills polarities, or political point-scoring. They're being informed, but not dominated, by academic theory. They are interested in what works in their classrooms and what engages their students.
They have opened their classrooms, as well as their minds. Video is becoming an indispensable teaching tool, padlet the vehicle for sharing. Musical Futures, for example,has a sharing wall created by music teachers from around the world – you'll see practice (good and struggling) being critiqued, refined and re-shaped collaboratively. In comparison, school's internal professional development  sessions seem pallid and lifeless.
And perhaps the most thrilling part of this revolution? These new action research models fully involve the end-users: students are researchers, too. They are sharing their experiences, and their views, about learning that works for them.
Somewhere, receding into the background, are the fading voices of policy makers, advocating opposing pedagogies, based on ideology as much as evidential claims. Increasingly, however, they are becoming 'noises off' – because teachers are too busy working it out for themselves to listen.
 OPEN: How We'll Work Live and Learn In The Future is available on Amazon.

heutagogy
>
Michael Fullan
>
Musical Futures
>
Open
>
Padlet
>
pedagogy
>
Twitter