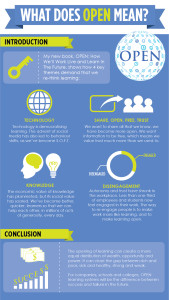 Since the publication, and very positive response, to OPEN: How We'll Work Live And Learn In The Future, I've had  a number of people ask what the concept of 'open' means. here's an attempt to present it visually (you'll need to click on the image to view it properly).
Boiled down to its absolute basics, the logic chain goes like this:
1. Technology is helping to democratise learning – but it's not just about the kit;
2. Through technology we've managed to re-connect with powerful values and actions – we share, we're making our organisations more open; information has become free (in almost all senses); in order to turn these values into autonomous actions, we now trust each other;
3. This is having a profound effect on the way we view, and use, knowledge. Its value economically may not be what we were told it would be, but the value now lies in what we do with it. The Linux model (give the code/information away, people will need you to help them make best use of it) applies to almost every aspect of business now. Sadly, the glaring exception remains how schools are forced to treat knowledge by  standardised testing regimes. Here, what you do with knowledge is irrelevant – all that matters is being able to regurgitate it.
But things are very different in the social space. Here knowledge really, really, matters – because we place great store in reputational capital.
4. The rise in sharing, open, free and trust isn't found in most companies and education centres. So, the disparity between the formal learning space and the social space, couldn't be greater. The result? An epidemic of disengagement, at work and in school.
But OPEN is irreversible and I believe that, eventually, learning in work and in formal education will have to become more open, and the playing field of life, and prosperity, will become more even.
Which is why we should welcome Open, not fear it.
Open
>
reputational capital