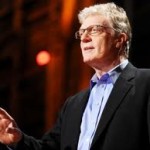 And so to London for the Tedx 'Education Revolution' event. For those who didn't know, this event was inspired by Ken Robinson's previous Ted Talk. Ken is great at inspiring people to re-think their purpose and practice, but is the first to admit, that bringing systemic change to the world of education is a tough job. Nevertheless, this event promised to delve deeper into the issues than is possible in the eclectic pot-pourri of the usual Ted events. This one had a specific focus (transforming education) and a plea to 'turn ideas into action'. Great, sign me up.
Sadly, the opening music (Floyd's 'Another Brick In The Wall' – how long did it take the organisers to think that one up?) set the tone. Now, I'm a big fan of Ted.com, so it pains me to say that the day was deeply disappointing, on a number of levels.
First, the line-up of speakers was a sort of watered-down version of the main Ted event: some musicians, a few inspirational kids, lots of photos and personal stories, and lots and lots of gadgets. I'm not going to rate the presenters: some were good, some less so, but the biggest criticism I heard all day was that most of them seemed to be trotting out the kind of analysis of the problems, which suggested that many of them spent little, or none, of their time in schools. Goldie (bless) was a case in point.
Second, if you're going to present best practice, make sure it really is unique – I know a number of teachers in the audience, and  some of them are doing more cutting edge work than most of what we saw on stage.
Third, if your keynote address (a video-taped message from Ken) stresses the centrality of the teacher-student relationship and pedagogy, at least get your presenters to focus on that. We had worthy presentations about nutrition, curriculum, social media and, of course, technology – but few insights (Ewan Macintosh's plea for pedagogy which turns students into problem finders, not just problem solvers was one notable exception) into that central pedagogic relationship.
Fourth, inspiring kids are great, and give us all a warm fuzzy feeling, but, with all respect, they're not our target audience. We need to hear from the disengaged, the disappointed, so that we can see the world through their eyes.
The biggest problem, however, is one of format. The standard Ted format  (one 6-18 minute presentation after another) is very good at turning idea-peddling into performance, and wise men and women into cult-figures, but I'd suggest it's not very good for galvanising people into action. (It's also, to be honest, generating a bit of that zealously uncritical cult-like conformity of response – some of the critical Tweets were given short-shrift).
To get real change to happen requires either political action (lobbying/advocacy), or  incremental transformation (one school at a time). Few speakers, with the exception of Ken Spours, talked about either. Inspired, no doubt, by the success of We Are What We Do, delegates were asked to make pledges about what they would do in their own practice to bring change about. However, since most of the examples presented weren't from people who are facing a mutinous Yr 8 on a Thursday afternoon, there was precious little in the way of practical take-aways from the event. 
The people who can effect change, Principals and Headteachers, were conspicuous by their absence, either on the stage or in the audience, and shouldn't they be the prime target?
Ken Spours talked about the reason why there has been no 'slow accumulation of wisdom' about what works in education: political interference. He also, argued, powerfully, for a national debate on the values we want to see in educational policy-making, and a shift from versus (academic vs vocational, knowledge vs skills) to the world of and. The only flaw in his logic (and very persuasive it is) is this: which Secretary of State for Education is going to voluntarily divest him/herself of the power invested in them, for the greater good?
It seems churlish to knock a well-meaning event, but if Ted is to move beyond intellectual inspiration, into social and political change, then events like this need to be re-thought. One of the ironies apparent today, was that speaker after speaker talked of the DIY culture which permeates social media and the world of social enterprise. Yet, apart from a couple of short breaks, the accumulated wisdom and experience in the room, (and there was lots of it) was left untapped by the organisers. The schooling system is notoriously difficult to transform, and demonstrating a few snazzy iPad apps (however impressive) isn't going to do it.
If Ted is about turning ideas into action, then can we please hear from the people who face the fall-out, on a daily basis, from the undoubted systemic faults, and allow them to create their own solutions? 
Ewan Macintosh
>
Ken Spours
>
Sir Ken Robinson
>
Ted Talks
>
Tedx